Dreamcatchers is a story about hope. Its a painting made especially for the Telethon weekend, inspired by the artists lived experience of being a father to a daughter who is a leukemia survivor.
This stunning artwork of a blue bird is a symbol of hope, love and renewal with children capturing their dreams. The warmth and inspiration for this original oil painting is that anyone with the strength and heart can lift up and protect children so they can chase their dreams. – Telethon 2022
I was honoured to be asked by Telethon to create a special painting to be auctioned off at the Telethon Ball. Below is a bit of my backstory as to why I was selected and more information about the artwork. This has been a big project for me, as I really wanted to make it special for Telethon, for those wanting to bid on it at the ball and for myself, to make it a beautiful addition to my journey as an artist reflecting on my past and looking to the future. After creating about 10 or more designs, I came back to one of my first…
'Dreamcatchers'
Oil on Canvas, 122 x 152cm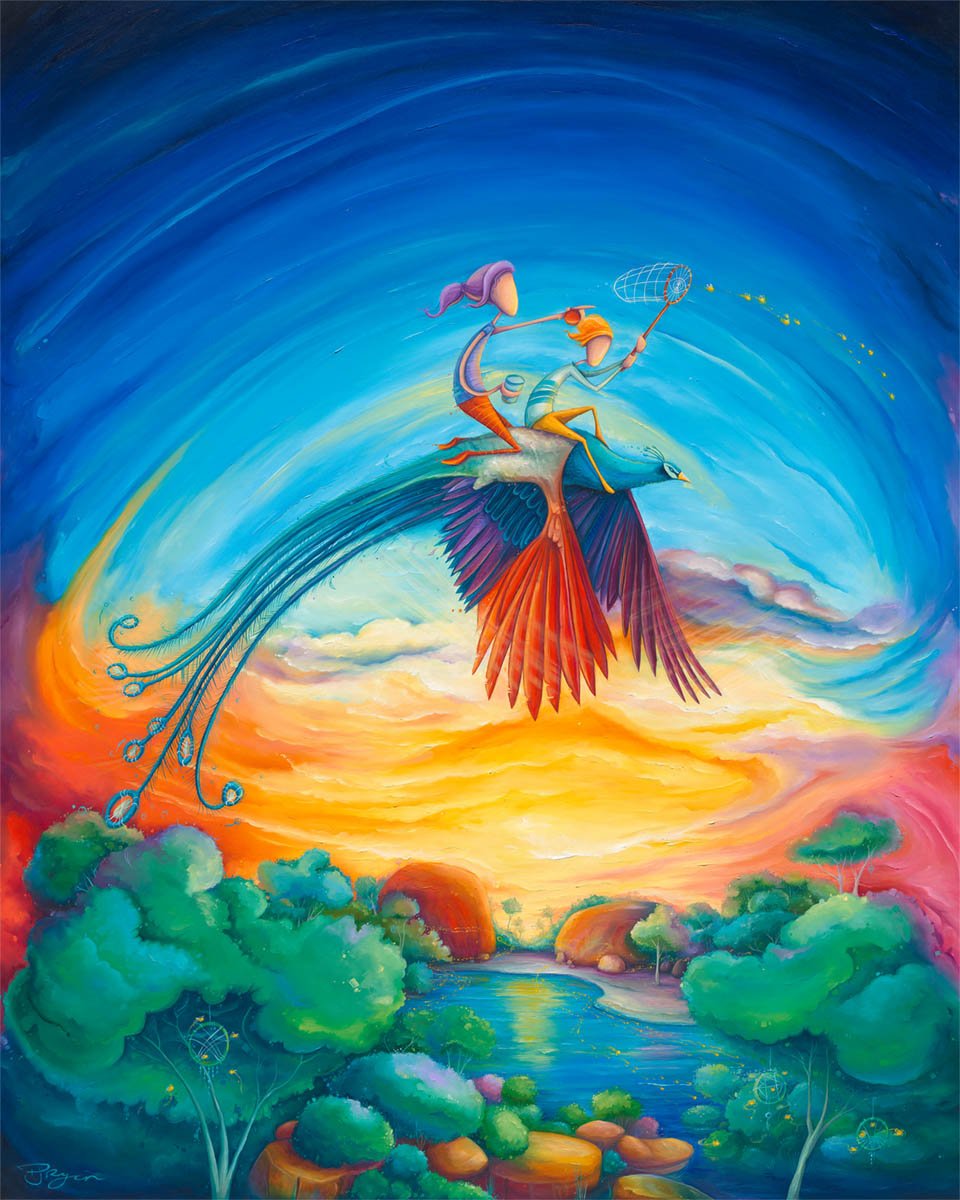 BACKSTORY
Having gone through many nights at Princess Margaret Hospital with my then 3 year old daughter  I understand the importance of hope and moving forward when stuck in a situation that can hold back your dreams. In the early weeks of Skye's leukaemia treatment, one hospital night  my daughter and I wrote down a list of dreams we wanted to achieve…and from that point I made the choice to make this experience matter towards a positive future. I quit my job to look after Skye and focus on my art with my little art buddy by my side.
Not focusing on the negatives meant I saw so many strong , selfless and inspiring things Skye did. She put others first, even in the middle of the night while being ported (a painful large needle in her side for medicines) for a stay in hospital she was looking forward to her lucky dip reward… so she had a gift to return to brother and sister.
Her thoughtfulness and creativity with beautiful quotes she wrote and left around the rooms inspired me to use my art to help others and I painted from these experiences of hope and happiness and learnt to draw more inspiration from all children imaginations.
One example was 'Dreams Can Travel Tonight'. Skye wrote this message on her night light message board, and during the nights at the hospital we created a story together about a girl who travelled to dream world to collect the dreams for the other kids in the hospital who couldn't leave. In 2019 to raise money for the Leukaemia Foundation the story inspired a painting we created together of a little dream catcher with a big heart.
DREAMCATCHERS
Dreamcatchers is a story about hope. It's a painting made for telethon inspired both by my past and very recent creative workshops with children where I first included a peacock in the school artwork and that blue bird captured my attention and I felt it was special the moment I saw it.
The story takes place at sunset, a moment of calmness, mystery, beauty and itself is a source of inspiration.  As the sun goes down the light transforms into Fire Flies across the land and the 'Dreamcatchers'  are ready to help.
FRAMED: Special thanks to Terraze at  Arts Edge Photo & Frame for donating this beautiful Oak and White Trim frame to Telethon.